4/22/2009

Okay, so it's not really April 22, it's the 30th. But I forgot Blonger Day this year. Unforgivable.
Blonger Day, as you'll recall, commemorates the day in 2003 that brother Scott figured out just who Uncle Lou really was. It's customary on this day to review the previous year, the new information uncovered and other news. So let's get to it.
Van Cise Project
The big news, of course, concerns the new Justice Center currently under construction in Downtown Denver. In conjunction with the Van Cise family, Denver attorney Larry Bohning, Westword reporter Alan Prendergast and a host of interested parties, we succeeded in convincing Mayor Hickenlooper to name the new detention center, in part, after Lou's arch nemesis, Col. Philip Van Cise. Presenting the Van Cise-Simonet Detention Center (It's somewhere in there).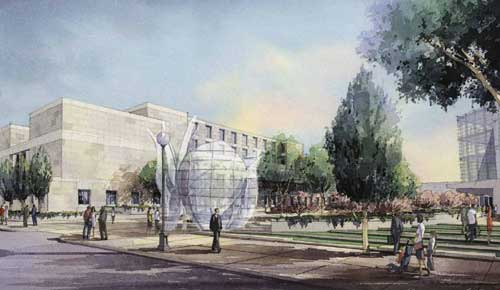 The still-living John Simonet has served as Denver's Director of Corrections. The Justice Center is expected to open next year.
Details on the project can be found in our section on the Van Cise Project.
Green River Whiskey
This year we also heard from Rob McCulloch, who tells us Green River Whiskey is back! Yes, the Whiskey Without a Headache, the one that Blots Out All Your Troubles, The Official Whiskey of the U.S. Naval Hospital, is back in production!
Legend has it that distiller J.W. McCulloch, one of the partners in the Forest Queen mine, bought his share from Lou for twenty barrels of the stuff.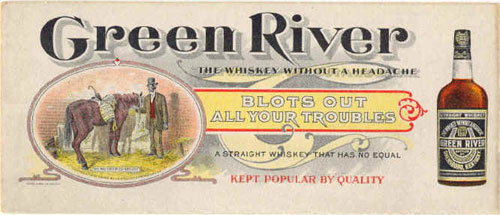 The Maiden Papers
Researching in Denver, brother Jeff found the papers of Robert Maiden, part of the collection at the Denver Public Library.
Maiden was working for the Federal Narcotics' Bureau in Kansas City when Van Cise recruited him to assist in the Blonger gang investigation. Maiden worked with Andy Koehn and A.B. Cooper in surveilling the gang, and the collection contains notes, newspaper articles and other items related to the case.
Maiden's Scrapbook is huge - about 22" square and 4" thick. It's mostly newspaper clippings from the Post, News and Times about the trial.
Of particular interest — we finally know Louis H. Blonger's middle name, Herbert. This item also indicates Lou was arrested in 1898, and twice in 1901, the former for assault and battery. That bears scrutiny.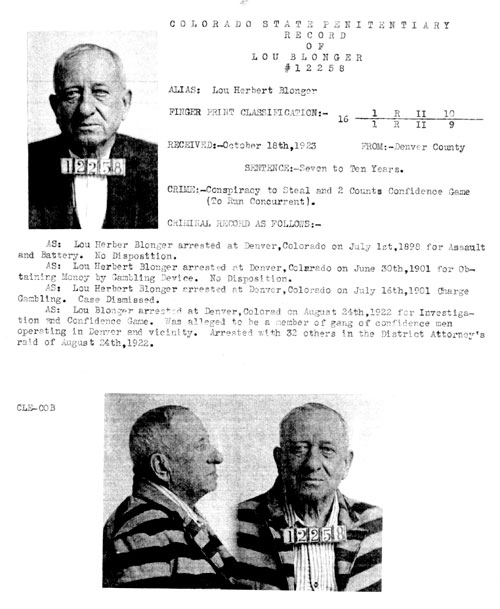 Jeff found numerous clippings from the Denver papers, and a few cartoons. This is a quote from a Rocky Mountain News front page article by Van Cise, 3/29/1923:
The American jury system has been on trial, and has stood the test. Justice may be slow; but she is sure. Lou Blonger has been a sinister influence in our political life for thirty-five years, and his men have always escaped the hands of justice. Today Denver has a new reputation among denizens of the underworld, and professional criminals will give her a wide berth. Secure in our homes and our firesides, we may now build for a real prosperity of the future.
Jeff also found numerous legal papers of various kinds, including the court stenographer's transcript of the trial, annotated with witness names in the margin and including a list of exhibits entered into evidence; a list of the fake stock exchange locations; The Detective, a newsletter, including wanted posters of Denver confidence men; a national trade journal for police officers, including the bunco gang with a request for any info about their previous criminal records, and an interesting article about the need for a federal investigative organization; a comprehensive list of all of the con men in Denver (hundreds); Van Cise's own notes including 6-7 pages from Van Cise's personal surveillance notebook; Jackie French's police record; a list of Denver top cops; Memorandum Outline of Opening Statement in Conspiracy case, a 74-page typed document, describing the charges against the gang, glossary of con terminology, an example bunk, outline of the physical evidence, etc.; a comprehensive document describing the DA's case against Blonger's gang; George Reamey's testimony against his former associates; and many photos, mug shots, surveillance notes, testimony and more.
One document even describes the gang's turf: "Their (the steerers) job was to find a sucker and in doing this they covered 17th Street from the Union Depot to Broadway; 16th Street from Daniels and Fisher's to Broadway; the Civic Center and State Capitol grounds and any other place in Denver where they thought tourists or strangers in the city might be found." The Justice Center, as it happens, is basically adjacent to the Civic Center/State Capitol area.
Finally, these poems, by Nick Carter, were published at the time of the trial.
MOTHER GOOSE
Amended
(In This Case No Apologies Are Necessary, Except to the Poor Public.)
Little Boy Lou, come blow your horn,
The sheep's near the statehouse, as sure as you're born!
Where's the little boy that looks after the sheep?
There in the courtroom fast asleep!

Hush-a-bye, bunkie on the tree top!
The evidence maketh your cradle to rock;
When the jury comes in the cradle will fall,
And down will come bunkie cradle and all!

There was a man in our town,
And he was Phil Van Cise;
He rounded up some funny men
And caught 'em by surprise,
And when he found he had 'em locked
Inside the jail-house door,
He jumped into a hotel room
And rounded up some more.

Little Bo-Bunk had lost her sheep,
And she's just mad as fury;
But that's all right, they'll come to court,
And wag their TALES to the jury!

Hey, diddle, diddle!
The bunks and Judge Riddle,
The sheep jumped over the moon.
The defendants laughed
To see such sport-
But some of 'em laughed too soon!

Simple Simon met a con man
Strolling o'er the lea;
Said Simple Simon to the con man,
"Make some dough for me."
Says the con man to our Simon,
"Show me first your money."
Says Simple Simon to the con man,
"Mercy, ain't you funny?"

Sing a song of sixpence,
A pocket full of braid;
Four-and-twenty blackbirds
Caught in a raid.
When the raid was over
They all began to sing:
"Whatcha got us in for?
We ain't done a-thing."

There was an old con man who lived in a shoe;
He had so many helpers he didn't know what to do.
He tried to catch minnows, got caught by a whale,
And he and his helpers all landed in jail.

Tuff, he was a con man; Tuff he was a thief,
Tuff, he came to Denver and stole a piece of beef.
The colonel went to Tuff's house; Tuff, he was in bed,
The colonel took the evidence and broke Tuffy's head!

The King of Bunk went up the hill,
With twenty or more men;
The King of Bunk came down the hill
And headed for the pen.
Le Journal des Con-con Hommes
According to the Maiden Papers, at some point after his arrest Lou requested the return of his personal journal from Col. Van Cise, who refused. We do not know the contents of this document, but we are told it was written in Lou's own "flowing hand," and we know its title, Le Journal des Con-con Hommes — The Journal of Con-con Men.
I want very much to locate this document, and would be honored to transcribe it. From the title I would not be surprised if this turned out to be an important addition to the literature on the subject of confidence men. Lou was a party to some of the great advances made in the art and science of the American con, and judging from the title, I can imagine his journal has plenty to say on the subject.
Bonynge vs. Shafroth
In 1902 the Denver fire and police board of Denver was accused of cooperating with the state Democratic Party to influence elections — surprise. As an example, Lou was reported to have made numerous visits to the state party headquarters for the purpose of buying protection.
Elbert County Banner, Nov. 14, 1902
SPICY NOTES FROM GEORGE'S WEEKLY.
[Selected excerpts from that column]
Apparently a lot of evidence is being collected in Denver for the prosecution of the ballot-box stuffers of that city. But nobody believes that any one will suffer for the crimes they committed in this line except the poor widow who was made a dupe of by scheming politicians, and who admits that she voted oftener than the law allows.
---
Throw out Arapahoe county and make it unaimous [sic]. It is rotten to the core. The gamblers and bunco steerers were too raw, as Jack Hall's dirty work amply indicates. Throw out this county—decency demands it.
---
When Stimson was nominated we declared openly that it "appeared like a walkover for Stimson." During the past three weeks, however, our readers have noticed we predicted the election of Peabody. Not many of our friends believed it possible, but when we saw the rawness and the ignorance displayed by the Democratic leaders in winking at the dirty work of the Blongers, the Halls and the other criminals, we felt such decent Democrats would revolt, and they did with a vengeance. Then too, every decent Republican got hot and went to the polls to record their protests. Thousands of decent people voted Tuesday who have not voted in years.
---
Jack Hall voted fourteen men four times each at one polling place last Tuesday, we are told. This certainly makes the record for "efficient work." Jack deserves hanging for his splendid work. We believe everybody who is entitled to vote ought to be permitted to vote once and have the vote counted. People who sell their votes or repeat ought to be taken out quietly and strung up.
---
Noting that Representative Shafroth goes unmentioned here, the article above nevertheless begins to scratch the surface of the Bonynge vs. Shafroth controversy and that filthy little election of 1902. The final tally in this election had Shafroth winning over Bonynge by over three thousand votes. Bonynge contended that he won by at least five thousand votes.
They would vote, and come right straight back across the street to M. Blonger and get some more slips. Finally Mr. Blonger came over and I says, you are doing pretty well, arn't you Lou?" He says, "I am pretty busy. But," he says, "I have got time to buy a drink," and while he was buying the drink they come up to him and says, "Give us some more slips right quick, we want to go back again." He says, "Just wait; I am busy right now." And he continued that about an hour, until the chief of police and Charlie Thomas came up there, and then Lou said he guessed he would go down the street, Lou says, and I said, "I guess I will go down also." So we went down from there.
Here's some Q & A from the trial. First former cop and saloon man William Arnett:
Q. Who is Lou Blonger; is he one of the sporting men? — A. Well, yes.
Q. What is his business? — A. His business is to bunco people out of money down here with Sam Jones [Who?], down along Larimer street, under police protection.
MR. VIDAL. I move to strike that out.
Q. How long has he been pursuing that vocation? — A. For the last fifteen or sixteen years, anyway.
MR. VIDAL. During Republican and all administrations?
A. Under all administrations; yes sir.
The saloon was a place called the Coliseum, owned by McPhillips. Lou was paying the men a dollar a piece for each vote, perhaps three votes to a man.
Q. What class of people were these that Blonger was handling that way? — A. They were a lot of saloon rounders — seemed to be a poor class of fellows that wanted to get the money. One of them told me that he had voted twenty times that I talked with.
MR. VIDAL. I move to strike that as hearsay, and further as incompetent, irrelevant, and immaterial.
Later came the testimony of William Burchinell — longtime receiver at the Leadville land office, then sheriff of Arapahoe County — and a Republican.
He describes Hall and his crowd of young men, some twenty 17 and 18-year-olds. What's more, Republicans could hardly be found at the precincts.
Q. What class of people appeared to be doing what voting was going on there through these precincts in F and H?
MR. VIDAL. I object, as calling for a conclusion and a general statement.
A. As I say, there were not a great many people. The party that I did see some of them I knew. There were three gangs that I saw. I saw one gang under Jack Hall, another gang under Lou Blonger, and there was another under — I can't tell the name [How come?]; there were three different outfits that I knew were repeaters that I had been watching in the morning and again in the afternoon, but I didn't stop at any of those polls and see that they attempted to vote, but they were around through those two districts.
Q. Jack Hall and Lou Blonger and the other party, were they Democratic workers?
MR. VIDAL. I object to that as leading.
A. Yes sir.
Q. Are they notorious people in Denver?
MR. VIDAL. I object to that as leading and calling for a conclusion.
A. Yes sir.
Q. What is the business of Jack Hall? — A. He is a gambler.
Q. What is the business of Lou Blonger? — A. Bunko steerer.
Q. What was the name of the third party you can't mention? — A. I think he is one of Lou Blonger's gang. I saw him come out of Lou Blonger's saloon, or the saloon that they patronized on Lawrence street, next to the Markham Hotel. He brought the crowd out of there once that I saw.
Q. Now you say that those three persons appeared to be in charge of gangs?
MR. VIDAL. I object to as leading.
A. They had gangs from five. Well, the first gang that Jack Hall had in the morning, as I told you, I counted 18 boys. I was right in among them, just the same as we are here, and I counted them. And I saw Lou Blonger on Larimer street with five. I guess Mr. Ward was with me when I saw the five on Larimer street. This other man that I saw, whose name I can not call, he was up about Twenty-first — I think it was Twenty-first and Larimer that I saw him.
There is more, of course. But that's the gist of it. Puts a face on some things we've been hearing for years.
Shaftroth came out of the whole mess smelling like a rose when he declared his conviction that Bonynge had been duly elected — after which he was often referred to as "Honest John." Furthermore, perhaps riding to some extent on the good will engendered by his unusual candor, Shafroth served as Governor of Colorado from 1908 to 1912. He's buried in Fairmount Cemetery, as is Lou.
Shafroth's willingness to allow that Bonynge was in fact the duly elected representative from Colorado's First District was apparently his response to the aforementioned suit filed by Bonynge, the text of which runs over nine hundred pages. And those pages reveal, in bits and pieces, yet another chapter in Lou Blonger's rise to power.
Antietam
In July of 2008 Scott and I, accompanied by our dad's brother Roy, finally made it to the battlefield at Antietam to see where we have long supposed g-g-grandad Mike succumbed to the heart condition that would cripple him for the rest of his days. Or was it Cedar Mountain? Or even earlier, at the Battle of Winchester?
Here's the only picture we have of Mike, with his daughter Clara: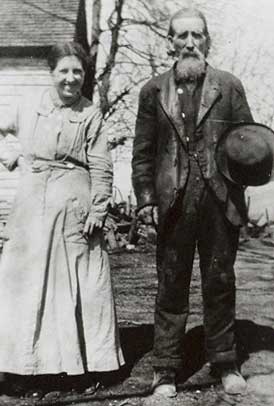 Antietam, yet the bloodiest battle ever in history of these United States, is a tiny part of the Blonger story — if it figures at all. Curiously, we have heard the stories of Mike going off to war, but none concerning his service. For this, we must rely on the tale of his regiment, the 3rd Wisconsin Infantry, and military documents regarding his illness and discharge. From these we will deduce what we can.
In May of 1860, Ulysses S. Grant took a job at his father's leather goods store in Galena, Illinois, alongside his brothers Orvil and Simpson. The Belonger family lived just a few miles away in the small mining town of Shullsburg, Wisconsin. Grant was later said by Belonger family and friends to have been an ardent admirer of young Mike's prowess with a fiddle — which still belongs to one of his descendants.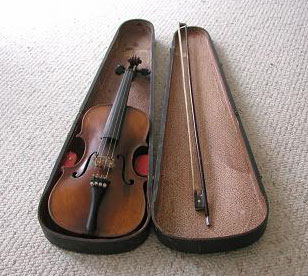 According to the Armstrong account:
Also, before the Civil War, in Galena, Illinois, Ulysses Simpson Grant, then engaged in farming, wood hauling and the leather business was heard to say that Mike Belonger was the best dance-fiddler on earth. H.B. Chamberlin, of Shullsburg, Wisconsin – an ex-soldier musician, heard Ulysses Grant say those words many times.
It was a very musical family, from what we understand, but Michael seems to have been the standout, also drawing the attention of a touring European violinist known as "Ole Bull:"
After the war, the famous Ole Bull, then the world's champion violin soloist said: "Mike Belonger has the world beat when it comes to playing reels, jigs, and clogs, on a fiddle."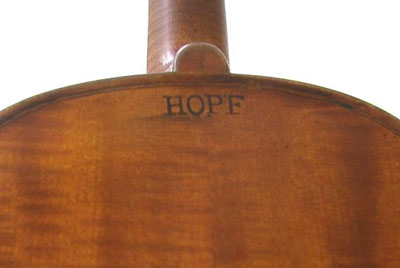 In November of 1860, Galena Republicans celebrated Lincoln's election with a victory party in the Grant store. Grant helped his Republican brother Orvil serve oysters and liquor, but was for his part apparently as yet undecided about Lincoln, and ineligible to vote in any case, not having resided in Illinois the requisite length of time.
In December South Carolina seceded from the Union, joined by other states in the weeks to come in a new confederation. On February 9, 1861, Jefferson Davis was elected president of this new Confederacy, and in March Lincoln was inaugurated President of the United States.
On April 15, 1861, one day after the fall of Fort Sumter, Lincoln called for the formation of an army to restore the nation, and Wisconsin Governor Alexander W. Randall responded in just eight days with four full regiments, including the 3rd Wisconsin Volunteer Infantry.
On May 8 of 1861, Mike Belonger, at eighteen, enlisted at Shullsburg in the 3rd Wisconsin Badgers, Company I, also known as the Shullsburg Light Guard. He was undoubtedly accompanied by many of his childhood friends and acquaintances. Again, according to Mary Virginia Armstrong — recalling the words of Mike's brother Joe, spoken some thirty-five years prior — of their little sister Mary:
During Civil War days, little Mary Dominica Belonger (later well known in Lafayette County as Mrs. William Swinbank) lived with her father, Simon, and an older sister in a cabin located on what was then called The Branch, at the foot of the hill east of where Charlie Harty's big house stands today, on the southeast edge of Shullsburg, Wisconsin.
The hill above the Belonger cabin was used for a training ground, and Little Mary was the pet of all the soldiers.
Scott and I checked it out a few years ago. We may have found the place. It would be interesting to run a metal detector over the field in question...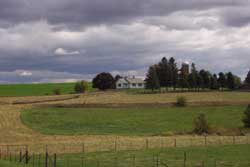 Armstrong says:
Uncle Mike Belonger was one of the soldiers in training. When they marched away to entrain for the battle-front the fife and drum men played, "The Girl I Left Behind Me," all the way from Shullsburg, Wisconsin to Apple River, Illinois, without one rest.
Uncle Mike said years later, "I was never so tired of a tune in my life," and, no wonder, because it took the soldiers at least three hours to march the eleven or twelve miles to the Apple River depot.
In June of 1861, the new companies converged on Fond du Lac. Colonel Charles Hamilton was given command. Fellow West Pointer Lt. Col. Thomas H. Ruger was charged with training the new recruits. He was recalled by one of his men as a strict disciplinarian, "but he was a just man, humane; and in few regiments of the service were punishments less frequent."
According to the diary of William Goodhue, a young man of Company C who survived the war, the men of the regiment were weighed on the 17th of May, and the average weight per man was 157 pounds! "If solid men can fight we need not be afraid..."
In July, the men of the 3rd, nearly one thousand strong, boarded a train to destiny. Sergeant Julian W. Hinkley of Company E recalled:
"All were in the best of spirits. It seemed to us as though we were setting out on a grand pleasure excursion. No thought of death or disaster appeared to cross the mind of anyone."
According to Goodhue, they were ten miles from Harpers Ferry on July 19th. On the 21st was the "Battle of Bulls Run, could hear the firing at Harpers Ferry." First Bull Run was the first major land battle of the war.
He described the place as a pretty town with two powder magazines atop the hill. It's still pretty, and quite authentically preserved, as we can attest.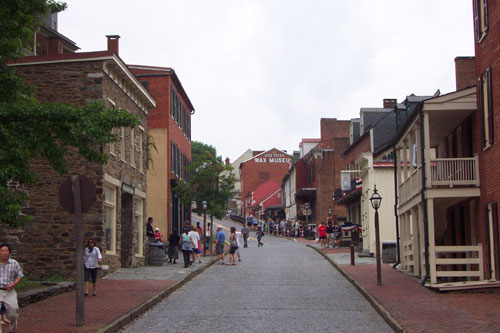 At the time it was also an industrial center, though you'd never know it today if not for the tour guides. More to the point, it was also the primary source of guns for the Union Army.
At Harpers Ferry, nestled at the confluence of the Potomac and Shenandoah Rivers, Goodhue saw the famous firehouse, with this inscription: "John Brown was kept here October 17, 1858." The place made him think of the recorder's office back in Wisconsin.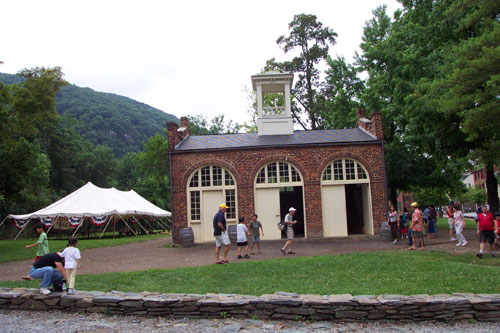 The station has in fact been moved four times since it was built, and today stands about a hundred feet from its original location.
On July 24th, the regiment's primitive muskets were replaced with "rifle minnie muskets." On the 29th, Goodhue saw a captured "Sessesh Captain". He appeared "very indifferent at his circumstances." On August 2, while recovering from diarrhea, he describes the surgeons as "no better than Brutes, with no feeling at all for any of us."
In October of 1861, the regiment first saw action at Bolivar Heights, a stone's throw from Harpers Ferry. Companies A, C and H together lost four men fighting off a force under Confederate Colonel Turner Ashby.
In early December the 3rd regiment was camped outside of Frederick. Col. Ruger was appointed Provost Marshal, and the men of the 3rd were charged with arresting the drunk and disorderly of their division in town, of which there are many. According to Goodhue, for spoiling their fun, men of the other regiments took to calling the Badgers "Backwoods Men."
Winchester
In November of 1861, Stonewall Jackson, commanding a variety of Confederate units, controlled the Shenandoah Valley, with his headquarters Northwest of Washington D.C. at Winchester, Virginia. The following February, Jackson found himself unable to defend the city with the approach of the Federals, including the 3rd Wisconsin, under General Nathaniel Banks.
Late in the month Banks brought his men south across the Potomac to protect the canal and railroad. Jackson's command was soon isolated, and on March 12 Banks occupied Winchester. The people of the town seemed friendly enough and welcomed the Union men without apparent malice. The Division was charged with driving Jackson from the Shenandoah Valley.
With Jackson's retreat to Mount Jackson, Banks believed, incorrectly, that Stonewall had left the valley proper. His task apparently complete, Banks began pulling troops back toward Washington, to reinforce General McClellan's men charged with guarding the Peninsula.
But Jackson had other plans. The rebels surging back in numbers far superior to the remaining Union forces, the 3rd Wisconsin found itself struggling back through Winchester and on across the Potomac.
Van Willard kept journals of his service with the 3rd Wisconsin. He served in Company G (the Neenah Guards) for most of the war. Though Mike served in Company I, Willard's journals undoubtedly closely reflect Mike's experience. Willard had this to say of the retreat from Winchester:
Thus we found ourselves to be surrounded, with an overwhelming force on all sides, leaving no other alternative but retreat or all be lost. Hence we fell back rapidly through the city [Winchester], the enemy close upon us, firing and yelling like very fiends, while from almost every window shots were fired by the inhabitants.
And later:
After this rest we pushed on towards Williamsport, still thirteen miles distant. It was a long march but was at last accomplished, and that night we lay down to rest upon the banks of the Potomac. The enemy did not press us closely from Martinsburg to the river, for it seems that the main body had taken the road to Harpers Ferry. We had been now two days with hardly a mouthful to eat and traveled a distance of over sixty miles, and some of us had fought in two pitched battles. It can hardly be wondered at that we were glad that Sabbath night when the sun went down and darkness came on to hide us from our cruel pursuers. Never was there a band of men more crippled than we.
As for Mike, his Certificate of Disability for Discharge, issued January 19, 1863, was submitted by Mike's doctor at a convalescent camp in Virginia. Mike is described as 21 years old, 5' 8" tall, fair complexion, brown hair, blue eyes, a farmer by trade. In the last sixty days, he is described as having been unfit for duty forty-one.
The physician, whose name I can't decipher (go figure), attests to the following:
I certify that I have carefully examined the said Michael Belonger of Captain Vandergriff Company, and find him incapable of performing the duties of a soldier because of Valvular disease of heart, contracted in the service.
On January 30, 1863, his Claim for Invalid Pension, submitted from Washington, D.C., claims of Mike that, "in the line of his duty, he received the following Disability:"
To wit: That while with his Regiment on or about the 20th Day of June A.D. 1862, on the retreat from Winchester Virginia, under General Banks, he contracted the disease by heat exposure, and over exertion, which rendered him unfit for further duty and from which he has never recovered and which wholly incapacitates him from earning his subsistence by manual labor.
That since leaving the service he has resided at Washington City D.C., and his occupation has been formerly a farmer but was [by] reason of his disability unfit for labor and he hereby appoints C. C. Cogswell, of Washington, D. C., his lawful attorney, and authorizes him to present and prosecute this claim, and to receive his Pension certificate when issued.
Okay, Mike fell ill on the retreat from Winchester, a maneuver since dubbed the "Great Skedaddle."
But there's more.
Re-formed after Winchester as part of John Pope's Army of Virginia, the 3rd soon found themselves at Culpeper Courthouse, soon to be fighting Jackson again. Thrown by Banks against Stonewall's superior forces at Cedar Mountain, a few miles from Culpeper, the 3rd was unsuccessful, but lauded for their fortitude. General George Gordon said of the 3rd at Cedar Mountain: "I know of no other regiment in Banks' entire corps [that] stood so unflinchingly before numbers and fire so overwhelming."
It is recalled that Jackson rode into the thick of battle at Cedar Mountain to rally his troops, brandishing a flag and his sword — still in its scabbard, stuck together with rust.
Mike's request for an invalid pension, written in his own words (in the third person):
While in said service, and in the line of his duty as a soldier, at Culpepper Courthouse, Va., or near there, in August or September, 1862, the command in which he was, was cut off from communication with its base of supplies, and for want of food & nourishment he was for several days nearly starved, by reason of which he incurred disease of heart and rheumatic affection of the entire left side.
This suggests rather plainly, both by the time and place — August or September, Culpeper, Virginia — that he was afflicted about the time of the Battle of Cedar Mountain, or thereabouts, not the Great Skedaddle from the Shenandoah Valley weeks before. Hmmm.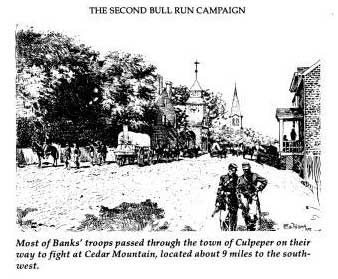 As we've seen, there is some confusion as to just when Mike was finally hospitalized with the heart problem that plagued him throughout his adult life. Was it during Banks' retreat from the Shenandoah Valley (about June 20, 1862)? About the time of the Battle of Cedar Mountain (August 9, 1862)? Prior to Antietam (September 17, 1862)? Or after?
Let's take a comprehensive look at Mike's Combined Miltary Service Record and his pension file, and what they have to say.
Pertinent entries from his CMSR:
June 29, 1861, Company Muster-in Roll: "enlisted May 8 at Shullsburgh, age 20, period 3 years"
Oct. 1862: "absent sick in hospital since Sept. 20/62 place unknown"
That would be three days after Antietam.
Dec. 1862, Company Muster Roll: "absent sick in hospital place unknown since Sept. 15 1862"
That would be two days before.
Oct. 1863, Company Muster Roll: "discharged for disability January 28 1863 vide D & D R."
Mike's pension file is a full 110 pages, including numerous requests for an increase, and many affadavits filed on his behalf by physicians and acquaintances. His requests were mostly denied. The pertinent entries:
Jan. 1, 1863, Original certificate of disability: "I have carefully examined said Michael Belonger of Captain Vandergriff Company and find him incapable of performing the duties of a soldier because of Valvular disease of the heart contracted in the service."
Jan. 30, 1863: First claim for invalid pension ($6): "That while with his Regiment on or about the 20th day of June A.D. 1862, on the retreat from Winchester, Virginia, under General Banks, he contracted the heart disease by heat exposure, and overexertion, which rendered him unfit for further duty, and from which he has never recovered, and which wholly incapacitates him from earning his subsistence by manual labor."
May 20, 1864, Surgeon's certificate declaring Michael disabled for life: "[S]aid to have been, and supposed to have been produced by, much exertion in the retreat of Banks from Winchester from which time applicant dates his illness and has not been well since."
May 28, 1880, Affidavit of Michael Belonger detailing his disability: "While in said service, and in the line of his duty as a soldier, at Culpepper Courthouse, Va., or near there, in August or September, 1862, the command in which he was, was cut off from communication with its base of supplies, and for want of food & nourishment he was for several days nearly starved, by reason of which he incurred disease of heart and rheumatic affection of the entire left side. For this disease he was taken to Columbia College hospital in September or October, 1862, where he remained until about the first of January, 1863. He was removed from said Hospital to Convalescent Camp at Alexandria, Va., from which he was discharged."
The 3rd was near Culpeper Courthouse at the time of the Battle of Cedar Mountain.
Mar. 10, 1886, Surgeon's certificate recommending a total pension: "That he first noticed a severe pain in his heart at battle of Antietam, Vir. 1862. He was sent to hospital where he remained over 6 weeks."
Despite the other entries, we see here he did indeed claim to be at Antietam.
Sept. 8, Surgeon's certificate recommending a pension: "Claims he incurred disease of the heart from exposure, hunger & hard marching in summer & fall of '62 near Winchester, Va. He once marched 35 miles in 5 hours & again marched 3 days without a mouthful of food. Was disabled & sent to a hospital at Washington for 2 or 3 weeks & discharged on account of disability."
Dec. 15, 1886, Affidavit of Michael Belonger protesting reduction in pension: "I received my breast trouble during Banks' retreat from Winchester. I was sent from Culpepper to the hospital at Washington with the same trouble in my breast. It was Columbia College hospital, from there I was sent to Convalescent hospital near Alexandria, and was discharged as I believe for my breast trouble."
Yet here he claims to have been sent to D.C. from Culpeper Courthouse, which would be at the time of, or prior to, Cedar Mountain.
June 20, 1888, Surgeon's certificate recommending a total pension: "In 1862 at Williamsburg, Virg., got disease of heart, later was sent to Columbia College hospital, there about 6 weeks. On his request to be sent Regiment he was sent away [sic]. Did not find Reg and was sent to Convalescent Camp in Md. and was discharged 10 days after."
As far as I can tell, the 3rd Wisconsin was never at Williamsburg. Probably meant Winchester.
Mar. 23, 1890, Surgeon's certificate recommending a 10/18 pension: "Contracted heart disease near Winchester, Va., on Gen. Banks retreat - did not go to hospital then but did in September November following and remained there until discharged for disability in January 1863."
Jan. 28, 1891, Surgeon's certificate recommending a 12/18 pension: "Contracted heart disease summer of 62 in Va. near Winchester not in hospital at that time afterward in Columbia College hospital - for six weeks - then went into Convalescent Camp and discharged on account of disability."
Dec. 6, 1893, Surgeon's certificate making no recommendation: "Had diarrhoea in Va. in 1862, September went to Col. College Hospt., Wash. D.C., & has left me with chronic constipation."
This last entry is an odd addition, to say the least.
What to make of it all? Did Mike attempt to pad his record to incur sympathy from the military when he went asking for money? He states that he was indeed at Antietam, but contradicts this elsewhere on numerous ocassions.
At this point, I am inclined to believe Mike was severely taxed during the retreat from Winchester, and about the time of the Battle of Cedar Mountain he was sent to Washington, never to return to his regiment.
But in deference to his claim to have been at Antietam — and because we recently visited the battlefield — next we'll have a look at the 3rd Wisconsin's role in that battle.
As illustrated previously, we just plain don't know if Mike made it to Antietam. Undoubtedly, he first suffered a heart problem at Winchester, and apparently made it to Cedar Mountain. Perhaps he soldiered on until shortly after Antietam. We just don't know.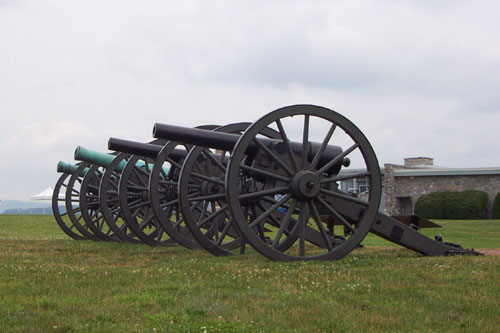 But if he did — what a day. Private William Goodhue gives voice to his fellows:
It was in the grey of early morning when the Sergeant Major, walking rapidly along the line of sleeping men, awakened us with a gruff voice to roll call. I arose from my greensward bed with a feeling of numbness in my left side, caused by the pressure of my cartridge box against it all night, for we had slept accoutred for the battle which we were certain would occur with the daylight.
From 3rdWisconsin.com
It was the morning of September 17th, 1862, at a place called Antietam. Still suffering from their fight at Cedar Mountain, the Third Wisconsin Infantry had been reduced to 340 men. As a part of General Gordon's brigade, they spent the night on the Poffenberger's farm field. Even as the roll call was being read, the sputtering of muskets could be heard coming from the front . . .there would be no time for breakfast that morning.
"The Division general and his staff came galloping along the line in front of the colors," writes Goodhue, "stopping a few moments to speak to our Colonel, then continuing on."
The Wisconsin soldiers witnessed something they had never seen before . . . Colonel Ruger dismounting his horse and putting it in care of a servant. The Colonel had always gone into battle mounted. Instinctively, Corporal Chauncey S. Beebe unfurled the Flag of the Third, and all know that there will be serious work ahead. The soldiers were then ordered into a column of fours. A grim Colonel Ruger placed himself in front and gave the command, "Forward!"
As they stepped off, a slight breeze picked up the folds of the Flag, accompanied by the general clanging of canteens and tin cups. Marching across an open meadow, the regiment soon ascended up a gentle rise of ground and entered a strip of large oaks and chestnut trees.
"Glancing back as we entered," recalled a soldier, "I saw other regiments and batteries following in good order, moving across the meadow just passed, and compact squares of infantry dimly visible through the mist which dimmed the brightness of the flags hanging limp and motionless against their staffs and concealed banners."
The regiment was halted and the welcomed command of "unsling knapsacks" was given. The knapsacks were soon passed along the line and piled up in heaps.
"Here, a captain from one of the companies stepped from the line and, approaching the Colonel, saluted him," noted Pvt. Goodhue. "A few words passing between them, unheard by others. The Colonel turned abruptly on his heel, taking his place at the head of the column, while the captain, with downcast face, walked to the rear, so very far to the rear that the regiment knew him no more."
Bullets began to hiss among the tree branches and Colonel Ruger ordered the column forward. In a short time, shells began to burst among the tree-tops. Branches, twigs and the colorful autumn leaves rain down among the broken ranks of the Third. Some of the mighty oaks cracked and shivered from the pounding shells, and the chestnut trees burst into splinters.
"Most of the missiles come high above our heads," writes a soldier. "One, however, comes low enough to kill a member of Company D, mangling him horribly!"
At the edge of the woods, the Third Wisconsin came upon their picket line. A misty curtain of fog covered the view in front, as the regiment emerged from the timber and was deployed into a battle line, with the Twenty-seventh Indiana on their left and the Second Massachusetts on their right. Shells continued to burst overhead, but the line was not visible to the rebel artillery and they were unable to get the proper range. Under the shell fragments, the Third continued onward. "A soldier near the colors was bruised by one of these fragments, causing a break in the line for a minute," wrote Goodhue. A few yards further and the regiment was ordered to halt.
Toward the right was the Dunker Church, which could be seen dimly by the men in the ranks. Lying scattered around their feet were a few black hats from the Iron Brigade, and in the front was a cornfield.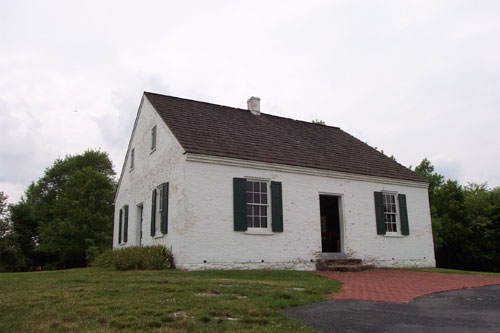 "Our position was in a stubble-field," noted an officer. "The ground in front of us sloped gently downward, so that we were fifteen or twenty feet higher than the enemy. About a hundred yards in our front was a rail fence, beyond which lay another open field."
As the morning sunlight appeared, the fog soon vanished; but the smoke from the artillery hung heavily over the fields. From the ranks of the Third, a soldier cried out, "Here they come!" Goodhue wrote:
"Our attention was drawn to the cornfield in which we saw several conical shapes dancing above the tasseled stalks. Eagerly we watched them as they came, when suddenly as if by magic, the corn disappeared and a long line of Confederate grey covered our entire front! The conical forms we saw in the cornfield were the tops of Confederate battle flags, now plainly seen, scarcely a hundred yards away. Amid the deafening roar about us, I heard a voice behind me shouting, 'Ready! Aim! Fire!'"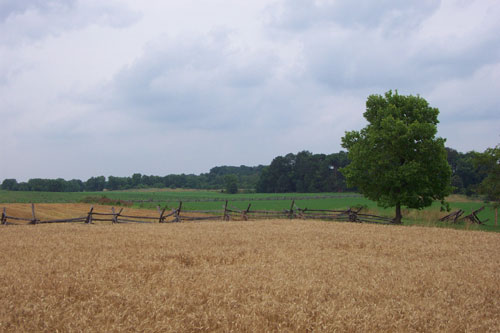 It was the Texans from General Hood's division that received the full volley of musketry from the Wisconsin line. Large gaps appeared in the grey line, but the Texans closed ranks and continued on. A Wisconsin officer noted that, "a portion of these stern fighters reached the fence, none came further. They there stopped and opened fire on our lines." The Texans' volley was terrible. Corporal Charles Beebe stumbled backward and was quickly caught by a comrade. He passed the Flag to Corporal Charles C. Chubb, then fell to the ground. Wounded, Beebe crawled toward the rear. Lieutenant Alexander Reed from Company I spun around and fell to the ground, dead. A bullet skimmed the forehead of Colonel Ruger, sending him a few steps backward, but the colonel remained on his feet. Within seconds, his forehead began to burn. Walking steadily behind the ranks of his men, Colonel Ruger gave but one command..."Load and fire!"
In Company D, Private Clinton Page was hit in the right ankle, but continued to fight. Page had just returned to the regiment two days previous after recovering from a wound he had received at Cedar Mountain. In Company C, the Thurlow brothers (Isaac and Albion) stood side by side.
"As one of the Thurlow boys (Isaac) turned partly around to load his piece, a bullet struck him in the temple, going through his brain," recalled Lieutenant Warham Parks. "I caught him as he fell and his brother carried him to the rear. In a few moments, he came back saying his brother was dead, picked up his musket and resumed firing...but his courage never failed."
A few minutes later, Lieutenant Parker fell to the ground wounded.
Above the clouds of musket smoke, the Flag of the Third Wisconsin was clearly visible. Standing firm, Corporal Charles Chubb was hit by a ball, which killed him; but before the flag fell to the ground it was caught by Corporal William A. Kimberly.
"The Third Wisconsin was in a very exposed position," wrote Lieutenant Bryant, "and it's lines thinned rapidly. It stood on higher ground than the Confederates, 'the sky behind it', in good musket range and close line — a good target."
Corporal Kimberly was soon hit and he passed the Flag over to Corporal Henry C. Isbel (right), then hobbled toward the rear. In Company D, Private Clinton Page received a second wound, a bullet hit his knee, shattering the bone. The pain was too great and the plunky soldier gave up. Using his musket for a crutch, he tried to hobble to the rear. A third bullet hit him in the spine, and the soldier fell. He was carried to the rear where his leg was eventually amputated. In the ranks of Company H, the Agnew brothers (David, James and John) stood close together, blazing away at the enemy. Suddenly, a Texan volley knocked all three brothers down. Corporal Richard C. Notting was also hit in the neck.
The ranks of the rebel line were beginning to thin out as well. The fire coming from Gordon's brigade was deadly.
"At length, the Confederates had been reduced to a mere handful," noted Hinkley. "It was hopeless to hold on any longer, and they fell back towards the woods. But before they had reached there, another of their brigades was coming up behind them. The new-comers, however, halted and opened fire at nearly double the distance that their predecessors had taken."
This fresh brigade of rebel infantry opened with a vicious fire. Corporal Henry Isbel feels a thud against his chest, passed the Flag to Private John M. Green, then weakness set in and he fell to the ground. A soldier wrote:
"Private Murray Green, as he was called by his comrades, held the colors but a short time while the firing was very heavy. His clothes were riddled with bullets and he received no less than seven flesh wounds, one only of the seven was severe enough to cause him to leave the field."
Private Green passed the Flag to the last remaining member of the color guard, Corporal James G. Savage. Over in Company A, Private Nathan Tuttle cooley reloaded his musket, at his feet lay his dead brother, Daniel. There had been four brothers in the beginning, but Franklin had been killed at Bolivar Heights and Elijah was taken prisoner at Winchester. Nathan was the only one left. Standing alone, he continued to aim and fire. Private George A. Rickeman, a recent immigrant from Germany, had not yet mastered the English language. When a bullet hit him in the thigh, the young soldier threw down his musket and began to shake his fist and yelled at the cursed enemy in Deutsch!
Many of the companies no longer had officers present, either being wounded or dead. Over in Company D, a spent ball hit Captain Hinkley in the ankle, which bruised him badly. A few minutes later, he was approached by a limping Corporal Savage, still carrying the Flag of the Third.
"He did not drop the Colors and run, but brought them to me, as I was the officer nearest him and told me he had to go to the hospital. I took the Colors from him and asked Joseph E. Collins, a private of Company D, to carry them, and he did so for the rest of the day," writes Hinkley.
Bringing his cap box to the front, Collins placed the end of the staff inside and firmly held the Flag of the Third Wisconsin high. He was the seventh soldier to carry the colors that day.
In front, the rebel brigade began to waver from the murderous fire coming from Gordonęs three regiments. Suddenly the rebel line broke and the grey-clad soldiers raced for the woods to their rear. Only forty minutes had passed and the Third Wisconsin had been reduced to a mere company. Hinkley wrote:
"...when the firing on our front had ceased and the reaction from the excitement of battle set in, Collins became so weak he could not carry the Colors. I got some whiskey from Colonel Ruger and gave him a drink, which revived him that he was alright again in a few minutes."
In the stillness, General Hooker was seen galloping up, blood dripping from his boot. He ordered the Wisconsin men to fix bayonets and pursue. There are only 60 men left! Joining them was the Twenty-Seventh Indiana, which increased the number to about 150.
"With a whoop and hurrah, our regiment and the Twenty-Seventh Indiana started down through the cornfield," continued Hinkley. "General Hooker himself leading like a captain."
At charge-bayonets, the two western units advanced across the cornfield. The flags of Indiana and Wisconsin flapped wildly in the breeze. The ground was strewn with the bodies of the Confederates. Towards the woods, at the edge of the cornfield, they marched. Suddenly a staff officer gallopped up and ordered the small attacking line of blue to halt and get out of the way. A division was advancing towards that position from the east.
"This was all that prevented us from assaulting a position with about a hundred and fifty men," reported Hinkley, "which a few minutes later Sedgwick's division, with five or six thousand, failed to carry."
The two regiments moved back across the cornfield to their old positions. Minutes later, they heard the heavy volume of musketry of Sedgwick's attack. They witnessed, in silence, the repulse of that division. There would be no rest for the Third Wisconsin now! The regiment was ordered forward to support the 1st New York Artillery and to meet the counter-attack. Only two officers remain fit for duty... Captain Julian Hinkley and Lieutenant Joseph T. Marvin, a school teacher by trade. They were now in command of the little handful that remained of the Third Wisconsin Infantry.
Out of the timber advanced a huge line of Confederates, their yells echoing loud across the fields. The powder-stained faces of the Third glared at their advancing enemy. Soon the deafening roar of artillery drowned them out. It was canister rounds that repulsed this attack. By noon, all was silent. An officer reported:
"Soon after noon, the ground was occupied by fresh troops and the brigade of Gordon was withdrawn a little to the rear. A rail fence gave fuel and soon the men were making coffee and preparing breakfast."
The next day, the men of the Third improved their opportunity to exchange arms. They threw away their state-issued Belgian muskets and picked up, off the field, the new Springfield rifles of a better pattern. This would later cause record-keeping problems in the State-Adjutant's office. For the time being, however, the men prepared themselves with their new rifles for a renewed conflict, but the battle of Antietam was over.
Epilogue
Today, if you visit that battlefield you will find nothing that tells the world what the Third Wisconsin did. Except for the Iron Brigade, Wisconsin has always been overlooked by the average historian. If you want to know where the Third stood, then look for the small plaque of the Twenty-Seventh Indiana. On the right you will find the silent rise of ground. There they stood and fought, but only a few know what they did there. Someday, we pray, we can change all that.
Of 335 men in 3rd Wisconsin Infantry, over half (173) were wounded and 27 were killed. If Mike was truly in the thick of it, he was one of the lucky ones. His affliction tormented him the rest of his days, but he lived a long life, and had ten kids, including great-grandma Braley.
This map shows the 3rd in the thick of things, heading straight for Hood's men in the Miller cornfield at 8:20 on September 17, 1862.
Maybe Mike told stories of the battle that we've never heard; maybe he never spoke of it. His friends and neighbors surely knew the facts. At any rate, he isn't mentioned in any accounts of the battle we've read, though there is a great book about the 3rd, With the 3rd Wisconsin Badgers: The Living Experience of the Civil War Through the Journals of Van R. Willard, edited by Steven S. Raab, which is a first-hand account.
Some company histories, compiled many years afterward, list Michael as "wounded," some even placing the wound at the Battle of Antietam. It's our judgment that this was a false assumption; there is nothing in his pension file that even remotely indicates that he was ever wounded in battle.
Abraham Looney was a young man in New Diggings, a stone's through from Shullsburg, when the war broke out. At twenty-three years of age he joined Company I, Mike's unit, when the 3rd Wisconsin was formed. The following is from a site about Lafayette County"
He became a soldier at the outbreak of the Civil war, enlisting in Company I, 3d Wis. V.I., July 19, 1861, under Capt. Howard VANDERGRIFF, of Shullsburg. He was mustered in at Fond du Lac, and the regiment was assigned to the Army of the Potomac. Its first engagement was at Charlestown, Va., and it was also at Winchester, after which battle our subject was part of the force that arrested the Legislature of Maryland, while it was in session for the purpose of joining the Southern Confederacy. Mr. LOONEY was in the battle of Strasburg, and also at Cedar Mountain, in 1862. He participated in the second battle of Bull Run that same summer. In September of the same year he was a soldier in the terrible battle of Antietam, where his regiment lost heavily in killed and wounded.
Other figures of interest known to be at Antietam include purported family friend U.S. Grant, purported acquaintance of Joe George Armstrong Custer, angel of Mercy Clara Barton, foe of the Denver gamblers Thomas Tarsney, partner in the Forest Queen mine Neil Dennison and Denver cop Perry Clay.
The Dunker Church
It's curious to note that our Uncle Roy, seen below with Scott in the old Dunker Church is a long-time pastor with the Brethren Church, which is to say — the Dunkers, who were so called by outsiders for their practice of full-immersion baptism. Congregants referred to the church as the Mumma meetinghouse of the Manor congregation, named for the landowner, Samuel Mumma.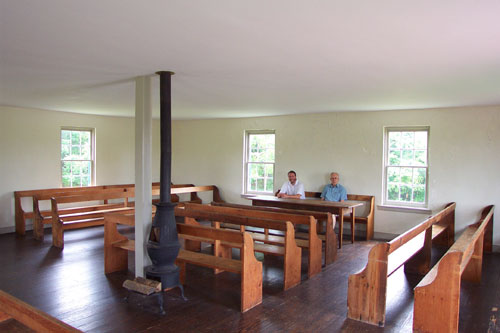 -CJ