Gangs of Denver
Perhaps most importantly, this year we learned a great deal about the situation on the ground in Denver during the 1890's, a critical period in Lou's rise to power.
Most of what we know about 1889, with Lou finally back in town, are matters of the heart. Both Sam and Lou divorced their first wives, Ella and Emma, respectively, and married their second, Sadie and Nola, the pretty young clog dancer.
In March, Sam and Lou are implicated in the voting fraud trial of Mayor Wolfe Londoner, the only Denver mayor to have had the pleasure.
In April, Peter Anderson is bilked of $275 in Blonger's saloon, most likely this place at 1728 Larimer.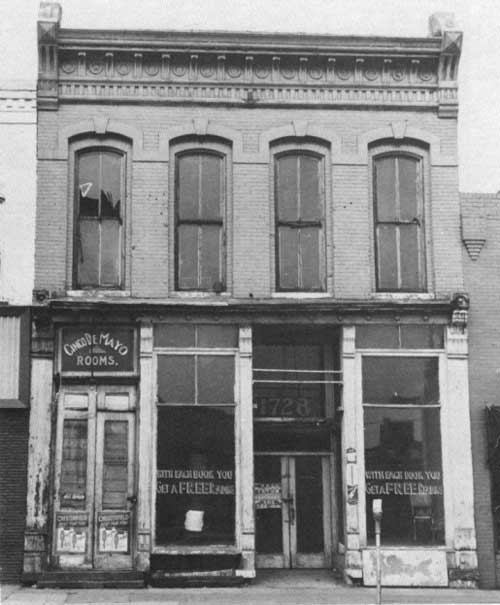 Chief Farley ran the Swede out of town.
In 1889, the boys have a joint at 1744 Larimer. The joint was closed for bunko games. One article indicates the Blongers owned the Tourists Club at 1734 Larimer, though by next year it's listed at 1740.
May 15, Denver gambling house men, including "S. E. Blonger," are called to pay a $50 fine. The policy shop men are called in too, and fined $10, but Chase is not mentioned in either list (except BD Chase).
Jeff Smith tells us that in 1891 Sunday closings were instituted, and saloons open on Sunday were heavily fined. Then hours of operation were limited, then location. In the spring the Rocky Mountain News demanded the gambling houses start paying more money for city repairs, etc. Fines were instituted.
Boulder Daily Camera, Sept. 26, 1891
Closed by the Police.
DENVER, Sept. 25.—The police board to-day ordered the gambling house of Blonger Bros., 1744 Larimer street, closed. The place is said to be a bunco joint, and the board wishes it understood it is after that sort of thing.
In February of 1892, Sam and Lou were arrested at their Tourists Club for swindling C.I. Tolly out of $100 and threatening him when he refused to pay.
On March 4, Lou and W.H. Gibson located the Forest Queen on Ironclad Hill, outside of Cripple Creek. On April 7, Sam and Lou Blonger, along with W. Neil Denison, John E. Phillips, W. H. Gibson, and M. McNallay, filed on the Forest Queen Lode.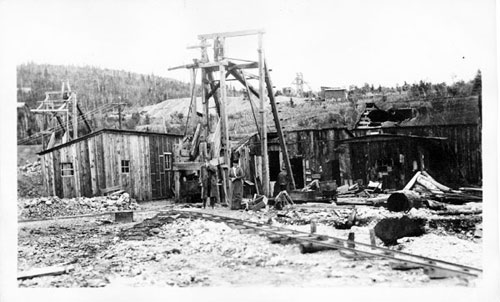 Head frame and structures.
Robert J Jackson and Alice Givin facing camera and unknown facing away.
Photo by J.O. Jackson
This same day, Blonger brothers' gambling house at 1744 Larimer street was closed by the fire and police board. Not long after, the brothers open a saloon on Market street between Sixteenth and Seventeenth streets.
In March of 1893, the special officers who had been assigned to the city's gambling houses, paid $85 a month by the owners, were removed. Over in Creede, Soapy Smith and his many associates are in control of Creede.
In June, Sam and Sadie end a nasty divorce suit. Sam has been beating her visciously. In December, Jesse Wheat sues Sam for breach of promise, and Lou witnesses the dynamiting of a patrol car as he stand in front of his place at 1744 Larimer.
November 11, "The sheriff had two or three deputies around at Blonger's on Larimer street looking for easy snaps and there were a few excursions out by some of Jeff Smith's people, but they came back unaccompanied."
November 18, Ben Perry is arrested at 17th and Lawrence for selling property he didn't own. His last arrest concerned a gold watch and diamonds stolen from Lew Blonger, who followed him to Pueblo and had an exciting chase.
Perry once tapped the telegraph into Bannigan's poolroom, above a Blonger saloon on Larimer, and "won" $2600. This was pre-"wire con," when the taps were real. It was the eventual defeat of this tactic by Western Union that inspired con men to create their own betting parlors, where they could control the fate of every bet and every race.
In 1894, Sam marries the widow of a dead fireman, Virginia Pierrepont.
On occasion, Soapy's men use the Blonger joints to trim their suckers at poker, or to assist in cashing ill-gotten checks. The Blongers have bunko gangs of their own, as does Ed Chase.
Lou is said to have owned twelve policy shops, but didn't seem to mind Ed Chase hogging the spotlight. In March Chief Veatch had the Colorado Policy Association raided, and Chase was arrested. Soapy Smith foot the $1000 bail.
Also in March, the Governor sent the militia into downtown Denver to forcibly install his appointees to the police board, declaring war on the "gang," including Soapy Smith and Ed Chase. The miltia faced down an army of thugs, mugs, gamblers and drunks, standing alongside many of the city's policemen and firemen. The men were armed, and the building packed with dynamite. Smith was conspicuously at the helm. The gang won the battle, but lost the war in court and the new men took their place on the board.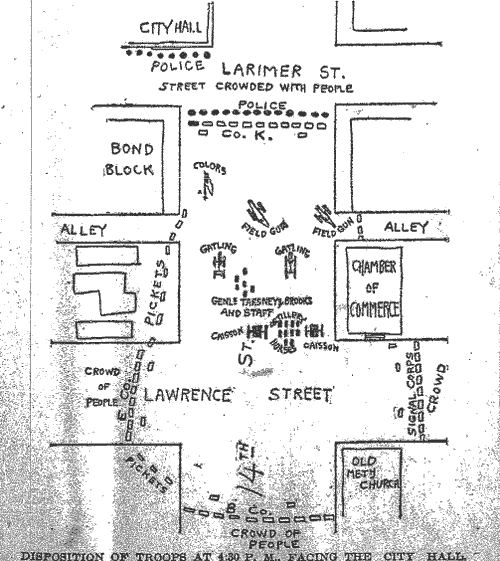 In April, all the Denver gambling houses were closed in a general crackdown by police.
In May, Ed Chase was arrested as boss of the city's policy racket, but it was later noted that these charges of gambling were often very difficult to prosecute successfully, particularly after steps are taken to operate more surreptitiously, with the adoption of peepholes and the like.
In August, Lou accompanied Denver city detectives to Colorado Springs, seeking custody of a former El Paso county "special deputy." He had confessed to complicity in the tar-and-feathering of Adjutant General T. J. Tarsney, commander of the state militia at the Battle of Bull Hill, a clash between striking miners and their employers, assisted by the sheriff's department and a small army of special deputies. The Forest Queen was in the shadow of Bull Hill, and the Blongers were likely involved in efforts to break the strike. Many of the special deputies were unemployed policemen and firemen from Denver, as well as a wide assortment of sports and ne'er-do-wells eager to mix it up with the union men.
This same month, the RMN suggested the Blongers and Smiths work together.
Rocky Mountain News "Local Brevity," August 5, 1894
Chief [of Detectives Leonard] De Lue arrested Tom Cady, Morris Brannick, Louis Cohen and Billy Daly, members of the "Soapy" Smith-Blonger bunco-steering brigade. They intended working the picnics with the shell game, but De Lue's moral crusade interfered. He says he intends to drive the bunco steerers out of the city.
In 1895, a campaign was launched against the Blonger resorts by the Mercury, a weekly paper devoted to the upbuilding of the populist party and the official organ of Governor Waite.
April 21, Soapy and Bascomb Smith made a commotion at 1644 Larimer Street after roughing up the chief of police down the street. Lou was reportedly behind the cigar counter with a double-barreled shotgun. Bascomb Smith was arrested for assaulting bartender Johnny Hughes, and ended up serving a year.
Rocky Mountain News, April 22, 1895
While this was going on at the city hall, however, the two Smiths were not idle. Officer Kimmel met the chief and Detective Connors with them at Nineteenth and Larimer. From here he followed them down to Eighteenth, thinking that in case the Smiths gave any trouble he would be on hand to help. After Goulding and Connors left the Smiths the latter went into Blonger's place on Larimer near Seventeenth. Here they said they were looking for trouble, and became quite noisy. Officer Kimmel went into the place and told the Smiths that the noise must stop at once or there would be two arrests. This settled the Smiths to some extent, and they retired from the place, muttering maudlin apologies to the officer. They next stopped at the Arcade. Here they had a quarrel with John Hughes and Charlie Lorge, battering them both over the heads with their revolvers. Hughes received one cut over the nose that will probably mark him for life, while Lorge is said to have had serious injuries inflicted on his head. Just after this little fracas Officer Kimmel went into the place and asked what was up. He was assured that nothing was wrong, and left.
The nature of the Smith tirade is unknown, but Soapy stayed low following the incident, traveling, and trying to mount a defense. Perhaps it was a show of force that backfired, or something more trivial. Letters were sent to Soapy in care of Lou during this interval, suggesting weakly that there was no enmity between them.
October 17, the Rocky Mountain News described the Chase and Blonger gangs, their influence over municipal officials, some of the current gang members, and their methods.
November 1, gambling was declared open again after the City Hall War and the Crackdown of 1894. On the 11th the RMN insinuates Lou's men may have been paying voters at the polls simply to help Lou win his bets on Webb for sheriff.
On November 15 Sam was arrested, along with May Bigelow of the notorious California Gang — female pickpockets and blackmailers. Lou was their ever-ready bail bondsman.
Sam stands accused of obtaining stolen goods. Smith's men Bowers and Jackson had fleeced S.W. Wolcott of a $600 check, which went to Bascomb, who took it to Sam, who directed him to a cooperative bank teller for cashing — and took twenty for his trouble.
November 18, Bascomb Smith wrote a letter to his brother, Soapy Smith, from the county jail, mentioning Sam's predicament and that the DA was pressuring him to testify against Sam.
December 9, Walter Farragher lost over $1000 to some Denver con men. The next day a number of Ed Chase's men, including former Smith man Jackson, were arrested in connection with the incident, but they claim they are in custody to make the guilty party impossible to identify — because the Blonger gang was actually responsible, and the city detectives were assisting Lou. Farragher was in hiding.
The Chase-Gaylord gang is dead sore on the Blonger crowd, and the soreness is intensified now that they have been arrested for an offense from the proceeds of which they have made nothing.
December 12, Ed Chase flexed his muscle and Sam was arrested again, this time to pressure him into ratting out the perpetrators of the Farragher swindle.
Come the 14th, and W. H. Carson was in jail over the Farragher incident, at $3000 bail. Also arrested was Owen Snider. Carson's attorney, fellow Forest Queen owner Neil Dennison and former assistant district attorney, successfully argued to Justice Cowell that the charge was in fact a misdeanor, not a felony, with a maximum fine of $100 or thirty days. Lou was ready with bail, but a new felony warrant was issued and Carson re-arrested. Lou posted the $2500 bail.
On the 16th the RMN finds Farragher sequestered in a hotel room by Chief Goulding. He expresses fear of the gang, and states he'd be happy with half his money back.
December 21, Farragher had skipped town, and the case against Sam fell apart.
Early in 1896, Soapy Smith left Colorado for good, permanently ceding control of the Denver underworld to the Blonger gang.
January 27, Sam went to court over the Wolcott swindle. Despite Bascomb's testimony, solicited by the DA in return for his freedom and a job on the force, the charges are easily overcome. Bascomb then accused the DA of welching.
Denver Evening Post, Feb. 22, 1896
BUNKO AND POLICY MUST STOP
President Webber of the fire and police board has given imperative orders to Sam Blonger that no more bunco steering will be tolerated in the city. No more policy shops will be allowed to run, and those operated by Edward Chase will be closed at once.
Oct 6, 1897, the Elite Saloon, replete with "mahogany fixtures and frescoed ceilings at a cost of $8,000, marble floors and an elegant cafe in the rear part of the saloon."
Rocky Mountain News, October 25, 1896
...Nowadays men drink like gentlemen and it is little wonder that when they drink they insist on surroundings befitting them. There are gentlemen in Denver who realize this truth. They are the Messrs. Blonger Brothers. They have constructed a temple—a palace—at 1624 Stout street for the accommodation of gentlemen who, for infirmities and for good fellowship, now and then indulge a cup that braces up and cheers. They have named this veritable place The Elite. There is nothing like it anywhere. There is nothing equal to it in richness of material or design or price in any other Western city. It must be seen to be appreciated...
Mar 3, 1898, the Elite Saloon is in default, and is sold for $3100
The next relevant news doesn't come till 1901, when Lou is arrested for swindling an English tourist. What happened in the intervening years? By 1910 he has the clout to avoid prosecution in the fall of the Millionaires Club in Council Bluffs. A U.S. District Attorney and a U.S. Marshal reportedly sat in on the proceedings to discourage Lou's implication during the trial. With few exceptions, Lou seems to have found new influence in the new century, managing to keep well below the public radar for many years prior to his arrest in 1922.
At least that's how it looks on Blonger Day, 2008
-CJ
P.S. What the hell happened to Chase, anyway? Did Sam and Chase take their recent legal troubles as an opportunity to retire from the bunko biz? Legal gambling in Denver was over for good by this time. Maybe the pressure was too much.