Time flies. Once a year, on the day our family became reacquainted with our long-lost uncles, the Famous Blonger Bros., we like to assess the year's finds, and talk about goals for the coming months.
First, the big news: we'd like to announce the Blonger Bros. Convergance Tour 2007. Starting in California following another engagement, Scott will head east toward Denver with his lovely wife Julie. Tami and I will head west from Illinois shortly thereafter. Here's what's on the agenda:
Burying The Hatchet If all goes well, Scott will meet with the infamous Soapy Smith to bury the hatchet and make peace between the Smiths and Blongers. While we wouldn't suggest that Lou and Sam drove Soapy and his gang from Denver — and Soapy to his fate in Creede — but when Soapy and brother Bascomb went on their rampage in 1895, the Blongers were waiting in the wings, ready to take over Denver's bunco operations lock, stock and barrel without missing a beat. Let's pray there's no bloodshed.
Silver Reef Then, after a stopover in Vegas, Scott and Julie will visit Silver Reef, down in southwestern Utah — a neck of the woods not often gotten to. Lou said he and Sam lived (and probably had a saloon, etc.) in Silver Reef in 1878, after doing the same in Tuscarora in 1877, and just before moving back to Salt Lake City later in '78. This is also the summer in which they supposedly spent the summer in Dodge. Busy boys.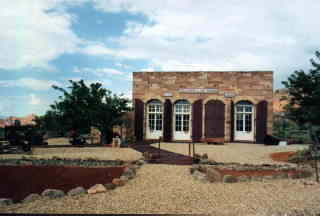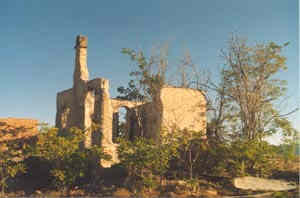 Lawrence Meanwhile, Tami and I will be heading east by land with our trusty canine Digit. First stop: Lawrence, KS. Lawrence, founded in the 1850s, was a stop on the California Road going west, and a prominent community in the anti-slavery movement running up to the War between the States. Hickok spent time there during 1858-1859. During the war, many men were killed and much of the city burned to the ground by Quantrill.
Lawrence is better known to us as the place where "Lou Blomger" got his start, running a hotel and restaurant. In Matt Braun's novel Mattie Silks, Lou hires a young Mattie as waitress, takes a shine to her that lasts many decades, and later sets her up in Denver as the city's most powerful madame.
Dodge City Next Tami and I go on to Dodge, where everyone seems to think Lou and Sam spent that special summer in 1878, gambling and hobnobbing with the likes of Doc Holliday, the Mastersons, the Earps. That summer Bat's brother Ed was killed, Wyatt is appointed Assistant Marshal. Eddie Foy is killed, as is Dora Hand. Bat is appointed Sheriff.
Many sources place the Blongers there at this time, including Lou's obits, but Lou's pension request is silent on this, and no documentation has been found.
Abilene Joe claimed to have spent time here.
Cañon City Tami and I'll be passing by the penitentiary where Lou died on our way into Colorado. Hopefully we can get a picture or two.
Buena Vista This little Colorado town is home to Frontier and Silver Creek Ranches, where siblings Jeff and Linda and I worked for a time years ago. We'll stay here a few days.
Cripple Creek From our base near Buenie we'll finally visit Ironclad Hill and try to determine what's become of the Forest Queen mine, Sam and Lou's mother lode. This is also the site of the Battle of Bull Hill, not far from the Queen, and we'll check this out too.
Leadville Next we'll head to Leadville, where the boys spent 1879, along with Horace and Baby Doe Tabor, Molly Brown, Doc Holliday, Ed Chase, Bat Masterson, and three prospectors accused of holding up a stage that year, Jesse James and Bob and Charley Ford. Sam ran for mayor.
While there, Tami and I hope to pan some gold, and visit the Blonger mine.
The Blonger is near Fryer Hill, as is the Robert E. Lee, where Simon was superintendent, along with the Climax, the Little Chief, and the Matchless, among others. Here's a map of the district, with Leadville at the bottom, and Fryer Hill just above and left: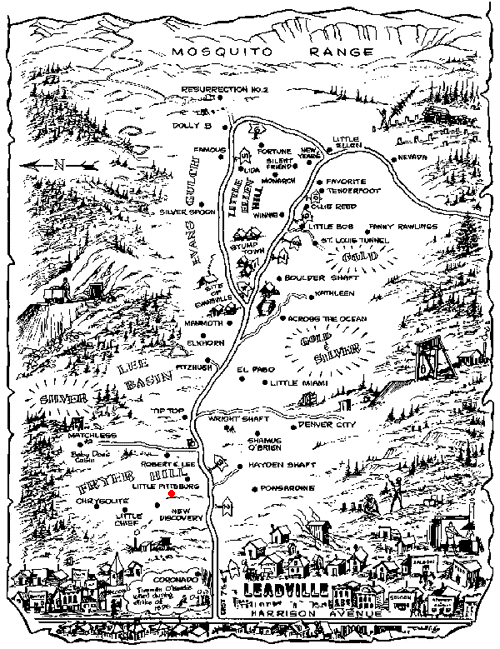 Here's the Blonger, center, just off the end of E. 5th St.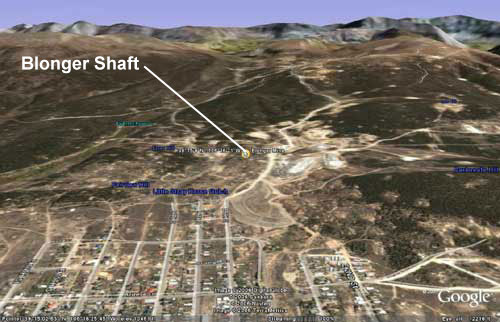 Georgetown Sam or Lou (probably Lou) had a theater here in 1879.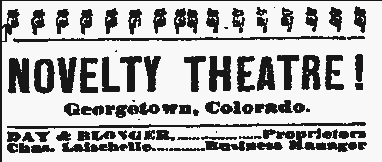 Nederland Lou had a tungsten mine here around the time of WWI, and a hotel.
Later, it's on to Boulder, and Denver, where we may have a meet or two, and a chance to check a few sites we've nailed down since our last visit.
Wellington Linda's place.
Council Bluffs On the way home, Tami and I will pass through this bunco town. Master con Ben Marks was from Council Bluffs, and became the town's fixer in later years. Council Bluffs went down in 1919 when the Maybray gang and their Millonaires Club saw the light of day. Both Lou and Yellow Kid Weil are said to have escaped prosecution in the case.
Council Bluffs may also have been the departure point for Sam's wagon train going west in 1858 or 1859.
Red Oak Not far from there is Red Oak, our last stop. Sam and Lou started their journey west here, in what was a frontier town at the time, managing a hotel and billiard hall. It must be considered likely that the Council Bluffs grifters, such as Marks and old friend Doc Baggs, might have frequented these Red Oak establishments, as it was on the rail line.
There you have it. It's a full plate. We may not get everywhere, and we won't be doing research so much as checking things out, but we should nevertheless have plenty to report, and lots of photos to show. Maybe video too, we'll see.
Here's a map of our destinations.
Now let's begin the appraisal...
Did any wishes come true?
Why yes. A year ago we expressed a desire to find out if Lou was in southern New Mexico, as he said he was, 1883 through 1887. The book Black Range Tales, the remembrances of a Silver City pioneer, states that, along with the Thurmond brothers, Lou "Blanger" was indeed one of the big gamblers in town. No further details, but it's worth noting that in addition to living in the Deming/Silver City area, Lou claimed to have stayed with Frank Thurmond — and by extension Thurmond's wife, gambler Lottie Thompkins — during his stay. Now we have to look into the period more extensively.
We also talked about pinning Sam down during the Civil War. This didn't happen, but we did find evidence of Sam's journey to California — a petition he signed requesting the government build a bridge on the Snake River. The document indicates Sam traveled the California Trail, via the Lander Cutoff, in 1858 or 1859, with a train of seventeen wagons. Family lore says he went barefoot.
The Recap
Denver Behind Bars: The History of the Denver Sheriff Department & Denver's Jail System, 1858-1956, by Lenny Ortiz, offered a wealth of new information on Lou's cronies in Denver — the arc of their careers, their connections, and seminal events. This isn't a book that talks about the Blongers, but it is riddled with insight into the men Lou would later count on to protect his bunco operation — including men who have not been linked directly to Lou, but who may be guilty by association, including Bat Masterson, Sheriff David Cook of the Rocky Mountain Detectives, Police Chief Hamilton Armstrong, Sheriff Burchinell, detectives Tom Clarke, William Arnett, Sam Emerick and Leonard DeLue.
In May, we located the Blonger Mine in Leadville, which may or may not be the shaft on the Big Pittsburg claim leased by the Blonger Bros. We'll see that claim this summer.
In August, Scott and Julie took a trip to beautiful Philipsburg, Montana, Marvin's home of many years.
A rich new strike was made on the Forest Queen two days after Lou's conviction...
BlongerWorld made its debut, powered by GoogleMaps.
In September, the calendar 2007 was released. Looks great. Still some available.
We got information on Sam's wagon train, and got a much, much clearer picture of the numerous Blonger joints in Denver.
In entertainment news, we found a fleeting reference to Lou in the book High Sierra — but not the Bogart/Lupino film.
What's more, we discovered that Lou served as model for one of Matt Braun's favorite recurring characters, the notorious Lou Blomger. The book Mattie Silks, in particular, has Lou in a major role.
But the big shocker, undoubtedly, was the revelation that Joe had shot and killed a man — his boss, no less — in the course of a heated dispute. What's more, the incident took place at the Bottom Dollar mine in New Mexico. Joe's association with that mine, one of New Mexico's oldest, has been known to us since nearly the beginning, in 2003.
Some slow times in there, but all in all, not a bad year...
-CJ